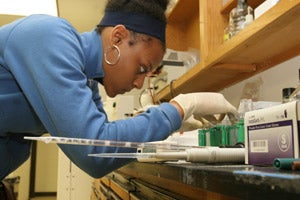 Incoming freshman and sophomores are encouraged to apply; however, preference is given to juniors and seniors in the Urban Health Partnership.
Cleveland State University has a long history of preparing outstanding students for a career in medicine, dentistry, veterinarian studies, and other medical fields. This state-funded scholarship program is designed to attract and retain the best and the brightest students in these areas.  
The program will award scholarships in the amount of $1,500 to $5,200 per year to students involved in pre-professional studies, especially those students who choose to dedicate themselves to urban health.  Although the program cannot guarantee acceptance into a pre-professional program for an advanced degree, components of the program are designed to maximize your chances.
Who Can Apply?
Cleveland State University student, enrolled Fall 2015 
Ohio resident
Pre-professional student actively earning an undergraduate degree. (Note that "pre-professional" is not itself a major, but usually a designed track within a degree program.)
Preference will be given to students admitted to the NEOMED-CSU Partnership for Urban Health.
Grade point average of 3.0 or higher
Commitment to Choose Ohio First program requirements
Current FAFSA on file with Financial Aid
What are the Program Requirements?
Monthly Brown Bag Lunch Series—a lunch-time opportunity to get together with the entire student cohort and participate in activities or hear speakers with topics of interest.
Journal Club—a monthly gathering to discuss emerging research focused on evidence-based practice in urban primary care.
Career Guidance/Advice—regular interactions with career counselors to explore your future in or out of medicine.
Mentoring Program—interactions with secondary and early-matriculation students who are also interested in the medical professions.
Other programs as they are developed to enhance your success.
How do I apply? (Note: Applications currently unavailable)
Applications will be posted when availability of state funding is confirmed
Include copy of transcripts to date (unofficial is OK!)
Submit to Dr. David W. Ball, Department of Chemistry, CSU, Room SR 397
For more information, call 216-687-2451 or email d.ball@csuohio.edu