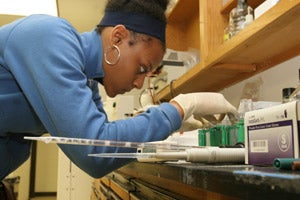 This state-funded scholarship program unites Cleveland State University, Baldwin-Wallace College, Case Western Reserve University, and Cuyahoga Community College. Working with key stakeholders in industry—BioEnterprise, The Cleveland Clinic and JumpStart—partners will share best practices, cross market existing programs and develop new joint initiatives to build a community of learning across institutions. Each educational institution will award scholarships (between $1500 and $4,700 per year) to students in bioscience or healthcare who are interested in science entrepreneurship. Students in the bioscience and healthcare related fields are encouraged to consider careers in high-tech, biotech, and healthcare based start-up companies.
Who can apply?
You must:
Be a Cleveland State University student, enrolled Fall 2015
Be an Ohio resident
Be a college junior, senior, master student or post baccalaureate student
Be a College of Science and Health Professions or College of Engineering Major in a health or bioscience related field such as chemistry, biology, health science, biomedical engineering, biomedical physics, etc.
Have a grade point average of 3.0 or higher
Be committed to the Choose Ohio First program requirements
Note: Students on full scholarships are not eligible.
What are the program requirements?
Choose Ohio First Scholars will be required to engage in three activities during the award period:
Research Experience—an independent research project in the laboratory
Internship/Co-op Experience—an immersion experience in industry or a working laboratory
Entrepreneurial Experience—mentoring by local science entrepreneurs, bioscience business incubators, or start-up companies
How do I apply?
Note: Applications currently unavailable. Applications will be posted when availability of state funding is confirmed.
For more information, please contact:
Dr. Nolan Holland
Chemical & Biomedical Engineering
FH462
Phone: 216.687.2572
Email: n.holland1@csuohio.edu