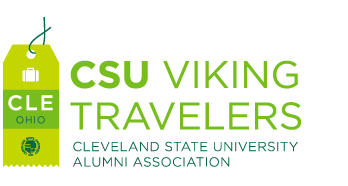 A new way to travel. With your Viking family. We want to take you around the world. And get this: we'll take care of all the planning. We've teamed with some of the best travel experts to deliver an experience like none other. Sign up today. Trips always have a limited number of seats. Here's to making memories that last a lifetime.

To learn more about each of our trips, contact Kathleen Kulik at 216.523.7289 or k.kulik@csuohio.edu.
2015 TRIPS

ALASKA PASSAGES
OCEANIA CRUISES 
Seattle to Seattle (10 nights) 

Date: July 14 – 24, 2015 Regatta
Price: From $3,299 per person, double occupancy (Airfare included from select cities)

Revel in the rugged, unspoiled glory of Alaska, America's last frontier, as you sail its coastline aboard the elegant and intimate Oceania Cruises Regatta. Depart from Seattle and sail the Inside Passage along Canada's coast to Alaska and the small wilderness outpost of Ketchikan, known as the "Salmon Capital of the World." Stop in Wrangell, a quaint timber and fishing community renowned for its Petroglyph Beach and intriguing gold rush history. Continue to Alaska's capital, Juneau, where an exhilarating blend of nature and modern culture await. Take in the spectacular sight of Alaska's longest tidewater glacier, Hubbard Glacier, and visit Skagway, a gateway to the famed Klondike gold fields. Explore Sitka, an astoundingly picturesque city known for its many historic attractions, including the Sitka National Historical Park, which boasts a totem-lined forest trail. Before returning to Seattle, sail to Canada's largest island and the lovely city of Victoria, a former British colony characterized by its charming houses, lovely gardens and colonial heritage. Savor the majestic beauty of ancient glaciers, soaring mountains and exceptional wildlife on this exciting Alaskan cruise. 

Download Alaskan Passages pre-registration flyer 

GRAND DANUBE PASSAGE
featuring Prague and Sofia

Date: July 30 - August 13, 2015
Price: From $4,990 per person

Described by Napoleon as "the king of Europe's rivers," the Danube is steeped in legend and epic lore. Discover the scenic banks that have witnessed centuries of human history and the rise and fall of civilizations. Natural wonders abound in the vineyard-clad Wachau Valley, the narrow, twisting Danube Bend and the formidable Iron Gate Gorge. Begin your experience by delving into the rich culture of Prague, and explore its Old Town, a UNESCO World Heritage site. Embark on a eight-night cruise of the Danube, offering a feast of ancient capitals, picturesque villages, Roman ruins, magnificent churches, palaces and medieval castles. Continue to Sofia, the historic capital of Bulgaria, where ancient ruins and chic boutiques coexist among tree-shaded boulevards. 

Download Grand Danube Passage brochure
Visit Grand Danube Passage website

BALTIC MARVELS
OCEANIA CRUISES 
Copenhagen to Stockholm (7 nights)

Date: August 13 – 21, 2015 Marina 
Price: From $2,999 per person, double occupancy (Airfare included from select cities)

Marvel at the exquisite architecture and charming capitals of the Baltic as you cruise from Denmark to Germany, Estonia, Russia, Finland and Sweden aboard Oceania Cruises' elegant and intimate Marina. Depart Copenhagen for the German port of Warnemünde and enjoy its lovely seaside promenade, or take a short drive to Berlin and view weathered remnants of the iconic Berlin Wall and world-famous landmarks. Admire architectural gems in Tallinn, a beautifully preserved Estonian city that radiates old-world charm with red-roofed homes, cobbled streets and spire-crowned churches. Delight in almost two full days to soak up St. Petersburg and take in its gorgeous onion-domed cathedrals and fabled palaces, such as the immense Winter Palace and lavish Catherine's Palace. Before concluding your journey in Stockholm, explore the Finnish capital of Helsinki, a renowned international design mecca where you'll discover a splash of modern art and architecture. 

Download Baltic Marvels pre-registration flyer 



ITALIAN RIVIERA

Date: October 3 - 11, 2015 
Price: From $3,040 per person

An area known for its sparkling, turquoise waters and lush, green landscape, the Italian Riviera has been captivating visitors for centuries. Walk along Sestri Levante's streets lined with pastel-colored houses and admire the breathtak- ing views of the neighboring bays. Discover the charms of Santa Margherita, as well as the lovely village of Portofino and the Ligurian capital, Genoa. Visit the picturesque village of Portovenere and the towns of Cinque Terre. Journey to the nearby Tuscan region to see a sculptor at work in Carrara, known for its snow-white marble, and the many delights of Lucca. 

Download Italian Riviera brochure
Visit Italian Riviera website

MEDITERRANEAN MOSAIC
OCEANIA CRUISES 
Athens to Barcelona (8 nights)

Date: October 4 – 13, 2015 Riviera 
Price: From $2,999 per person, double occupancy (Airfare included from select cities)

History comes to life on this impressive voyage that reflects the heart and soul of the Mediterranean. Uncover a dazzling mosaic of cultural and historical treasures as you sail to Greece, Italy, Monaco, France and Spain aboard Oceania Cruises' newest ship, Riviera. Depart Athens for the Sicilian town of Taormina, boasting an incredibly preserved Greek theater and breathtaking views of Mount Etna. Visit Sorrento, a delightful seaside resort with its fragrant lemon groves, winding cobblestone streets and majestic mountain vistas, or travel to Capri, where idyllic seascapes and quaint villages await. Cruise to Civitavecchia and visit the Eternal City of Rome, abounding with marvelous ancient structures, including the Colosseum, Trevi Fountain and St. Peter's Basilica. Explore the magnificent Renaissance museums and architecture of legendary Florence, stand before Pisa's famous Leaning Tower, or admire the picturesque rolling hills of Tuscany. Then it's on to glamorous Monte Carlo, a small, affluent enclave famous for its casino and stunning locale on the Riviera's winding Grand Corniche, followed by colorful Marseille. Explore its lively markets and charming old quarter, or experience the rich Provençal countryside dotted with picturesque medieval towns, before your odyssey concludes in Barcelona. 

Download Mediterranean Mosaic pre-registration flyer
2016 TRIPS
ATOLLS & ISLANDS OF FRENCH POLYNESIA 
OCEANIA CRUISES

Date: March 25 – April 4, 2016
Price: From $4,299 per person, double occupancy (including airfare)

Experience French Polynesia on one of the finest vessels afloat, Oceania Cruises' elegant Marina, where every port of call is a stunning Pacific dream. Savor the tropical islands and atolls of Moorea, Bora Bora, Rangiroa, and more on this extraordinary voyage.