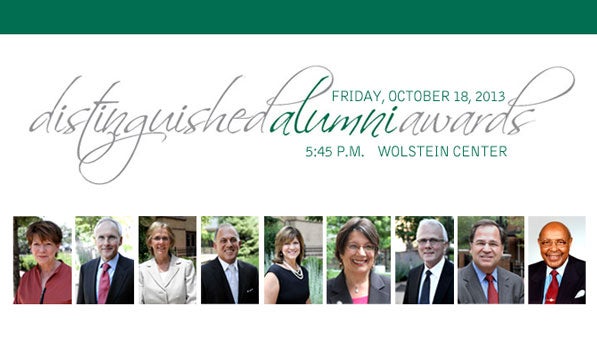 Cleveland State University's 23rd annual Distinguished Alumni Awards will salute 11 outstanding graduates for their service, leadership and career achievements. This year's honorees are: Kabir Singh, Martin J. Sweeney, Louis Stokes, Joseph C. Krysh, Dr. Robert A. Mengerink, Rebecca A. Bompiedi, Teresa K. Demchak, Thomas F. O'Toole, John C. Vitullo, Nickie J. Antonio and Susan L. Collier.
The awards ceremony will be held Friday, Oct. 18 at the Bert L. and Iris S. Wolstein Center, 2000 Prospect Ave. Tickets are $125 each; sponsorships and tables are available. The evening includes a reception at 5:45 p.m., followed by dinner and the awards program at 6:45 p.m. Valet parking is included.
Call 216.687.2078 with any questions.
DAA Honorees


Louis Stokes
George B. Davis Award for Service to the University
Congressman, U.S. House of Representatives (retired)
1953 JD, Law
1989 Honorary Doctor of Laws
Kabir Singh
President's Alumni Award for International Achievement
President, Sigma Vibracoustic Pvt. Ltd. and Sigma-Freudenberg-NOK Pvt. Ltd.
1997, MBA, Business
Martin J. Sweeney
President's Alumni Award for Community Service
President, Cleveland City Council
1988, BA, Political Science
Joseph C. Krysh
Monte Ahuja College of Business
Founder and Managing Partner
Regency Business Partners
1980 BBA, Accounting
1981 MBA, Finance
Rebecca A. Bompiedi
Fenn College of Engineering
Senior Vice President, Business Transformation
Philips Lighting Americas
1984 BS, Chemical Engineering
1990 MS, Industrial Engineering
Thomas F. O'Toole
College of Liberal Arts and
Social Sciences
Senior Vice President of Marketing and Loyalty/President of MileagePlus
United Airlines
1979 BA, Communication
1987 MA, Communication
Nickie J. Antonio
Maxine Goodman Levin
College of Urban Affairs
State Representative
Ohio House of Representatives
1980 BS, Education
1992 MPA, Public Administration
Robert A. Mengerink, Ed.D.
College of Education and Human Services
Superintendent
Educational Service Center of Cuyahoga County
1974 MEd., Education Administration
Teresa K. Demchak
Cleveland-Marshall College of Law
Retired Managing Partner
Goldstein, Demchak, Baller, Borgen & Dardarian
(now Goldstein, Borgen, Dardarian & Ho)
1970 BA, Social Work
1976 JD, Law
John C. Vitullo, Ph.D.
College of Sciences and
Health Professions
CEO and Co-Founder
Omega Laboratories, Inc.
1984 Ph.D., Biology
Susan L. Collier
School of Nursing
Vice President of Nursing/Chief Nursing Officer
Hillcrest Hospital--Cleveland Clinic Health System
1976 BA, English
1986 BS, Nursing