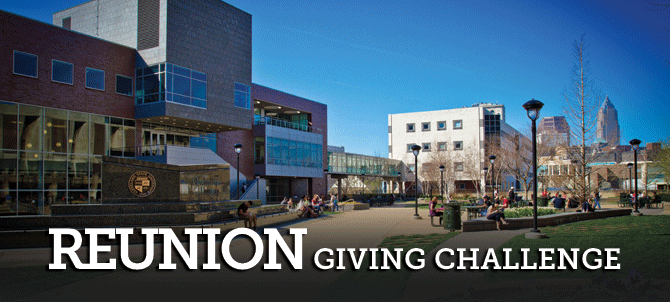 Rise to the Challenge.
Join your class in support of
Cleveland State University.
Your reunion year is the perfect opportunity to begin, renew or increase your support for Cleveland State University. Your gift –no matter the amount- will make an immediate impact on CSU students and sends a message that your class supports the legacy of Cleveland State and believes in the future of your alma mater.

<!---->
25 / 100

<!---->
22 / 100

<!---->
41 / 100

As a CSU alum, you know firsthand how important annual fund support is to students at Cleveland State. From scholarships to student organizations, the CSU Fund fills the gap between tuition dollars and a CSU education. Every dollar matters!
Please join your fellow classmates in making a gift in honor of your class year. Your participation in this challenge before CSU's Homecoming on Saturday, October 19 is greatly appreciated.
Show that your alma mater matters to you!