Brian's Corner
Oh Hail, Homecoming and the 50th are drawing near
Welcome New Grads
We weed, we prune, we grow
By Brian Breittholz, Executive Director, CSU Alumni Association


---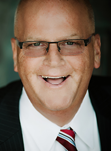 After an incredibly long winter, spring has finally arrived and I couldn't be more pleased to discover that most perennials do, in fact, return, even after one of the worst winters in recent memory.
Like so many avid gardeners, I enjoy the beginning of the gardening season each year with high hopes that my flower beds will someday resemble the rich photos the nursery's display when selling the plants. Not only do I enjoy the beauty flowers bring, but also the important life-lessons I've learned along the way from tending to my beds.
Think about pruning or dead-heading for example. The process of cutting back so more abundant growth can occur in the future.  Pruning is sometimes difficult because it means cutting away or eliminating.  How often do we enjoy cutting things out of our lives? Making difficult decisions may sometimes carry initial negative consequences, but they often lead to prosperity. I've been a part of different groups over the years where we've had to make difficult decisions about eliminating programs or services—our version of pruning. Each situation was difficult. And each eventually proved to be the right decision. The same analogy may be used with our alumni programming efforts, as we examine current and past initiatives and consider future opportunities.
 
Fertilizer also provides important lessons in the garden, and in life. When we prepare the soil, and surround plants with the right nutrients, our plants experience immediate growth. I often feel that working with volunteers takes a lot of fertilizing /cultivating. As we prepare our volunteers to be successful, we must provide the right balance of support (and nutrients) to help them successfully carry-out their responsibilities.  And a few gallons of Miracle Grow can go a long way too!
Sunshine and water are essential, but the extra steps of fertilizing, pruning, and weeding (we all have weeds in our lives that should be yanked) help make a garden flourish.  The very basic—the seed—however, must not be forgotten. After all, the seeds are the basis of our gardening adventures. Good seeds, properly cultivated, will lead to healthy, bountiful gardens.
Two events I recently attended on campus, the Radiance Reception and the Scholarship Recognition luncheon, reminded me of the importance of planting good seeds.  At each event, I witnessed incredibly talented students who are achieving in (and beyond) the classrooms, while often overcoming numerous life challenges and obstacles.  At the same time, I witnessed proud alumni and friends who made the investment in students by sponsoring scholarships or supporting different programs that contribute to student success.
These donors are the gardeners who plant powerful seeds by their contributions, and who often fertilize and nurture through their continued support and mentorships. One million dollars was raised this year at Radiance to support student scholarships. Now, if that isn't a whole lot of Miracle Grow, what is?
As I tend to my flower beds over the coming months, I'll certainly consider additional ways to further invest in our students and our alma mater to help her grow. I invite you to join me in doing the same. Happy Spring and Summer.
- BACK TO TOP -
Oh Hail, Homecoming and the 50th are drawing near
---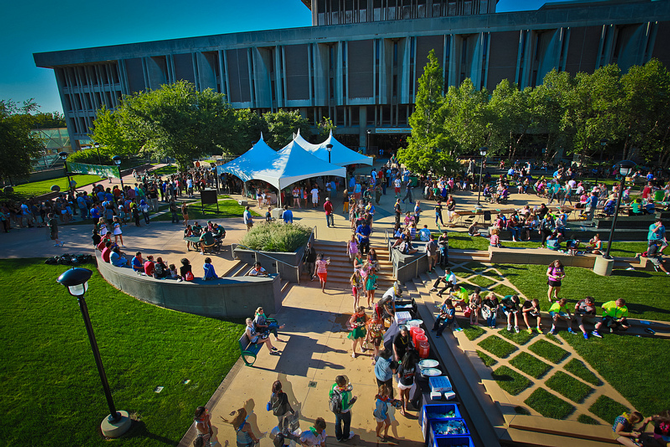 Break out the party hats and horns! Homecoming `14 will be bigger and better than ever, kicking off CSU's 50th Anniversary celebration.
Thousands of students, alumni and friends from all generations will return to campus to rekindle friendships, re-discover CSU, learn something new, and take part in activities designed to tickle your fancy (and your mind).
Highlights include
Street Party with food, music and family fun
Expanded Homecoming Parade featuring alumni marching in the "Parade of the Decades"
Reunions. Reunions. Reunions.
Distinguished Alumni Awards
Alumni Luncheon
Harvest Ball
Fascinating "Classes without Quizzes"
Tours of Campus
Great Greek Gathering
Sporting Events
Selfies with Magnus
And so much more. Activities are being added daily.
Homecoming Parade...be the float
Parades aren't just for spectators anymore. This year it's your time to be in the parade...possibly as a float. Represent your class and participate in this year's Homecoming Parade of the Decades. Break out those outfits from your era (or show off some new CSU gear) and come decked out ready to parade on down Euclid as part of this festive occasion. If you have kids, bring them along. Little Vikes love parades too!
Distinguished Alumni Awards
The Pride of Cleveland Faithfully
Participate in the Marquee alumni program of the year on Thursday, September 18. Some of CSU's most accomplished alumni will be recognized in this magical evening celebration sponsored by the CSU Alumni Association. Tickets go on sale in August.
Call us at 216.687.2078. with questions or visit www.csuohio.edu/alumni.
Run, Magnus, Run
Take part in the 7th annual Midtown Cleveland Healthline Classic 10k/5k Race on Saturday, October 18. A favorite race among CSU alumni and students. Find out more and register at www.MidTownCleveland.org.
- BACK TO TOP -
Watch, weep and wish them welcome
---
Congratulations to all of our new graduates! Go and make us proud. But before you do, watch our tribute to you.
- BACK TO TOP -
"Today is a highlight of my life"
---
View photos of the new Campus International School playground and its donor William E. Conway.
- BACK TO TOP -