Brian's Corner
A Green Theme and quiz you can't fail
Q&A with Dorothy Jane Mills
A Celebration Like No Other
By Brian Breittholz, Executive Director, CSU Alumni Association


---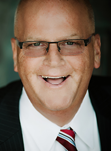 "Never go to your high school reunion pregnant or they will think
That's all you've done since you graduated."- Erma Bombeck
Erma certainly knew how to get to the point…and made her points quite humorously. We're now gearing up for the fall reunions. And if you wish to come to your reunion pregnant…go for it.
Our traditional 5, 10, 25 and 50-year classes will celebrate loudly and proudly. These reunions are for the classes of 2009 (5-year), 2004 (10 year), 1989 (25-year), and the golden anniversary class of 1964 (50 years). All of our class reunions will be held in conjunction with Homecoming/Reunion Weekend on September 19-20. To make your reunion as enjoyable as possible, please volunteer for your reunion committee by emailing us at: alumassoc@csuohio.edu
Along with class reunions a number of colleges/departments will be planning reunions during Homecoming/Reunion Weekend as well. As we learn more about these activities, we will share them with you on our website.
Along with traditional reunion and Homecoming activities, this year will undoubtedly be the largest gathering of alumni and friends in CSU's history with the 50th celebration of CSU. This momentous occasion will be marked by a block party closing down Euclid Avenue. Alumni from every year are invited back to participate in the "Parade of the Generations," leading into Euclid and officially kicking off the block party. To represent your class in the parade, email us at alumassoc@csuohio.edu indicating your desire to march with fellow classmates and family members. We'll follow up with the details closer to the event, but keep the late afternoon of Friday, Sept. 19th free on your calendar.
This may not be your class reunion year, but that shouldn't stop you from enjoying all of the activities, or planning a reunion of your own. We're here to assist you. Think about gathering up your old group of friends and we'll help you coordinate a memorable reunion on Saturday. Contact Kathleen Kulik at k.kulik@csuohio.edu to explore options.
Homecoming/Reunion Weekend will kick-off a year full of 50th commemorative initiatives designed to celebrate our past and inspire our future. Events will occur on campus, and across the country. Keep your eye on our website, www.csuohio.edu/alumni to learn more about these exciting experiences as they're finalized. In the meantime, start making plans for your reunion in conjunction with this milestone celebration. And, don't forget--maternity dresses are welcomed as well.
- BACK TO TOP -
A Green Theme and quiz you can't fail
---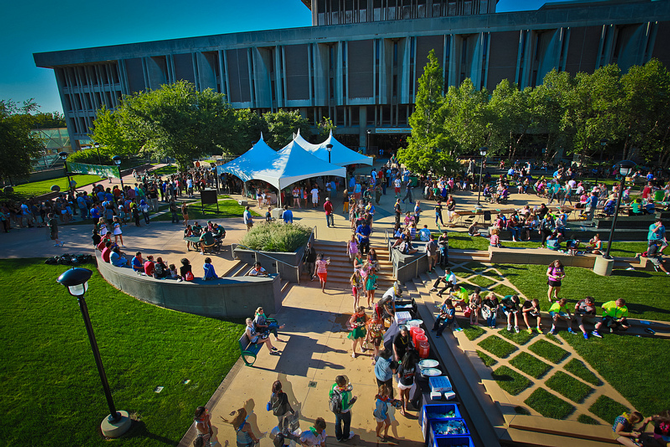 CSU is reducing its carbon footprint and leading the way in energy reduction among all Ohio colleges!
1. The state wants colleges to reduce energy consumption by 20 percent. What's our goal?
27%    31%   35%  39%
2. How many pieces of old heating/AC equipment did we replace with energy efficient ones?
300   500   800  1000
3. By 2021, we will keep more than _____ TONS of CO2 from polluting the air.
18,000  21,000  24,000  27,000
4. We compost! And thanks to less food waste and eating only what we take, composting dropped from 1,000 to ___ pounds per week.
100-300  400-600  700-900
5. Our campus has more than ___ different species of trees, shrubs and flowers.
200  300  400  500
Answers
1. 39%   
2. 800   
3. 27,000  
4. 400-600  
5. 500
More Green Facts
All CSU cooking oil is recycled into bio-diesel fuel, keeping it out of the Lake Erie watershed.
Students now hang out on more than 22 acres of campus green space.
Low flow faucets, showers and toilets are in the residence halls and newer buildings like the Student Center.
Our eggs are cage-free. Happier chickens, better eggs!
Four major buildings are LEED Certified for sustainable construction and operations: the Rec Center, Euclid Commons (Silver), Julka Hall (Gold) and the Student Center (Silver).
CSU has four green roofs atop the Rec Center, Julka Hall, the School of Health Sciences and the main Plaza. These rooftop gardens reduce energy use, filter pollutants from rain and snow and add green space. Each features a wide range of plants specially suited for its location.
We serve only socially and ecologically responsible coffee.
CSU's South Parking Garage boasts an array of solar panels and is our first foray into utilizing renewable energy.
Active recycling takes place in residence halls and throughout campus.
- BACK TO TOP -
Q&A with Dorothy Jane Mills
---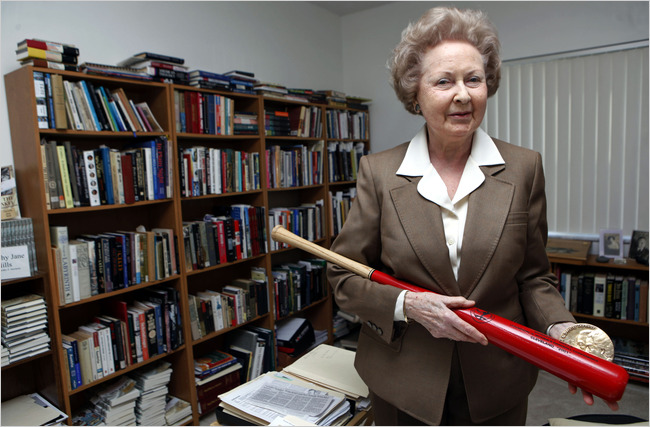 As a student in the 1940s, what do you remember most about Fenn College, CSU's precursor?
I remember Charles V. Thomas, Fenn's first president, as a kindly man deeply interested in young people's learning. I recall being taught how to behave during a formal tea held at the Mather Mansion. (This experience was entirely new to me, the child of a working class family.) I adored working on the college newspaper and contributing to the college magazine.
Mostly, I remember the effective faculty, especially Harold Seymour, a history professor who opened my eyes to the exciting knowledge available through the study of history. By introducing me to his early research on baseball history for his doctoral dissertation from Cornell (the first such dissertation ever written on baseball history), he started my career in historical research and writing. We were married in 1949, after my junior year at Fenn, and I have been studying, researching, and writing history ever since.
You've worked as a teacher, editor, novelist, children's author, and public speaker. How do you juggle all of these roles?
All my work is related to my delight in history and education. Over the past sixty years, most of it has related to baseball history, but I have also published education texts, essays, and a vegetarian cookbook, writing whenever I felt I had knowledge to share. I wrote children's books while teaching young children to read. I write what I need to write at any particular time of my life.
I try to accept every speaking engagement offered (at age 86!) and have just returned from a trip to Cooperstown, where I gave the keynote address at a conference of 60 baseball who specialize in nineteenth-century baseball. Last summer I was invited to speak at a reunion of the women who were members of the All-American Girls Baseball League, the professionals of the 1940s and '50s. About 200 of them are left (out of about 700 who played in that pro league.)
I sometimes write book reviews and articles, and I often write blogs for my web site. Writing is my greatest joy in life. Playing the piano is another; it's so relaxing.
You were a driving force behind a 3-volume, groundbreaking history of baseball. What was most challenging or exciting about creating this classic trilogy?
Nobody had ever published scholarly baseball history before Harold Seymour and I prepared the three volumes for Oxford University Press that are still the classic histories of our National Pastime and are used daily by researchers, including those working at the Baseball Hall of Fame Library at Cooperstown. Opening this entirely new field of history proved exciting.
Challenges include trying to read newspapers so old they fell apart as we touched them; getting very tired eyes from searching faded materials on microfilm; being refused when we tried to purchase essential materials (that are easily available now); and facing overprotective librarians who were reluctant to let us see the materials they were curating.
When and how did you begin receiving recognition for your work on baseball?
Although Harold Seymour had the original idea for this series, I worked at it right along with him, and I gradually took over the project. The third volume in the series, which is devoted to the history of amateur baseball, is essentially mine--including the writing.
It was not until after his passing in 1992 that I revealed my role as co-author of those books to the main organization of historians that grew up after we had opened the field: the Society for American Baseball Research (7,000 members now!). The Society then prepared an award called the Harold and Dorothy Seymour Medal, which is given annually to the author of the best book of baseball history or biography published in the previous year. I have the honor of participating each year in the ceremony of presenting the Medal.
In 2010 Oxford University Press decided to re-issue a new printing of this series with my name on them as co-author, and with my name appearing in the initial position on the third volume. I am grateful for finally receiving appropriate recognition for my role in the preparation of these ground-breaking books.


Did Ken Burns rely on any of your material for his baseball documentary?
Assuming that Seymour was the sole author, Ken solicited Seymour's help with his documentary, since Seymour was the first known historian in the field. Ken also produced a full filmed interview with Seymour, but until came over to our house and he didn't realize Seymour's condition. He told me afterwards that the filmed interview was unusable in his documentary because of the effects of Seymour's advanced Alzheimer's disease.
After Seymour's passing, Ken sent his researcher to my home to talk to me about my sources, and she phoned me often to ask for research advice. Ken listed Seymour's name and my name as sources among the credits, one of us at the end of the documentary and the other at the end of the book that accompanies it.
What are your current projects?
Lately, I have been working largely on women's baseball history. Most people don't even realize that women have been playing our National Pastime since the 1860s or earlier.
I have a book-length manuscript being read by a New York editor, at the request of my agent. This manuscript is a short history of women's baseball from the 1860s, when women played (in long dresses) in the newly-opened women's colleges, all the way up to the present. Nowadays, women's elite teams take part in tournaments, their best players form a national team to compete in international competition against the women's teams of Venezuela, Japan, China, Taiwan, Canada, and the Netherlands. Practically nobody knows about this competition. The book is aimed largely at young readers, most of whom still believe that baseball is only for boys and men. I call this book "Who Ever Heard of a Girls' Baseball Club?"
What advice would you give to aspiring authors and historians?
Those who love writing and research and who discover the joy of history should search for a field or topic that calls to them. They should find their niche, perform research to learn what has already been done on that topic, and find something still lacking in what has been published. The field of history is wide open! We need creative people interested in helping to interpret the past.
- BACK TO TOP -