Brian's Corner: I'm 50!
Update your information for 50th anniversary directory
Dr. Peter Dunham earns Distinguished Faculty Award for Teaching
See the beast that ate Rascal House!
I'm 50!
By Brian Breittholz, Executive Director, CSU Alumni Association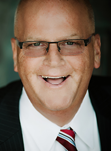 ---
I recently turned 50! There…I put it out there. My inclination is to make some snide remark like "50 is the new 30." Those of you 50 and over would know better, and those under can't be fooled that easily.  I tell myself that I really look more like I'm 39 than 50…and so long as I don't spend too much time in front of a mirror, it works.
With this milestone birthday, relatives, friends and colleagues have all shared advice on aging—solicited and unsolicited.  My shopping cart is now filled with supplements (and a few groceries, here and there).  Perhaps, if I bought actual food, I'd have sufficient nutrients to offset the supplements.  Something to ponder next time I walk into GNC.
As I enter this new year, and celebrate the milestone of turning 50, I take stock in learning that I am a little older than the Ford Mustang—also celebrating its 50th.  I'm also just a few months older than Cleveland State University. Now… it's one thing to be older than a model of a car--it's quite another to be older than an entire University.  This nugget makes for interesting reception small talk.
This calendar year marks the 50th anniversary of the start of Cleveland State University. Happy Birthday to us all. Although a battery of physical check-ups and supplement shopping sprees aren't being considered as part of the anniversary, planning is now underway for a celebration unlike anything we've experienced the past 49 years at CSU.
The 50th Anniversary activities will actually commence this fall with the start of the 50th freshman class and will run through the spring of 2015.  During the year, a variety of events that honor our heritage and re-commit to CSU's evolving future will be sponsored by the University and the Alumni Association.  As we begin this process, however, please let us know what types of experiences would be of greatest interest to you? What suggestions do you have for the planning committee? How may we make this celebration as meaningful as possible?
The 50th celebration of Cleveland State University will be here before you know it and you'll certainly be invited to the party—just let us know how to make it truly valuable for you  (submit recommendations here) and commit to taking part in the activities planned. Not only are we going to plan events on campus, but we're going to take the show on the road so many of you outside of Cleveland may also take part in this milestone occasion.
When I was feeling a little blue about turning 50, my good friend, Martin, shared with me an old Saturday Night Live clip of Sally O'Malley that reminded me just how young and vibrant 50 can be. CSU is certainly one of the most young and vibrant places around. We have plenty to celebrate.
 I hope you get a kick out of this clip too.
- BACK TO TOP -

Update your info for the 50th Anniversary Alumni directory
---
CSU turns 50 in 2014, and as we prepare for this once-in-a-lifetime milestone, we want to make sure we stay connected to you and your fellow graduates! So, we are asking all CSU Alumni to contact us to update their alumni information.
Verifying your information is critical to compiling your upcoming 50th Anniversary alumni directory. We'll also be able to provide valuable career assistance, networking opportunities, campus news updates, the chance to mentor students, and invitations to fun and exciting events. Current data on our alumni as a whole helps CSU seek government grants to aid students and determine our rank in national evaluations. In short, your verification is crucial to the success of our students, fellow graduates and CSU!
Please give Publishing Concepts (PCI) a call so that we may verify your information. PCI is a trusted partner of the CSU Alumni Association. Please call 1.866.277.1993 (toll-free) to verify the accuracy of the data currently listed on file.
- BACK TO TOP -
Dr. Peter Dunham earns Distinguished Faculty Award for Teaching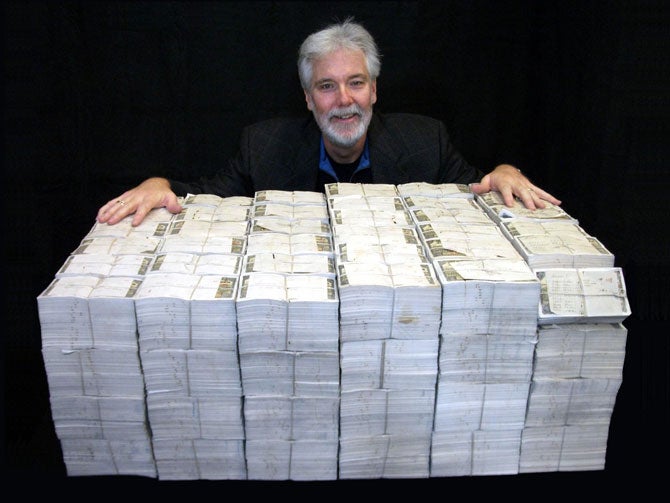 The popular professor with millions of dollars in antique banknotes he found.
Favorite courses taught by Dr. Dunham
Human Diversity
Rise and Fall of Civilizations
Ancient Mysteries
Archaeology
If you're one of the thousands who took an unforgettable Anthropology course with Peter Dunham, chances are you're not surprised to learn he recently earned CSU's highest faculty honor: the Dr. Jennie S. Hwang Award for Faculty Excellence.
An anthropologist and archeologist, Dr. Peter Dunham has won scholarly and popular acclaim, as well as top funding from the National Geographic Society and others, for his Maya Mountains Archaeological Project (MMAP) in Belize.
For years, he journeyed to remote Maya cave/tomb sites to discover remarkable pottery and other artifacts uncovered by CSU students and his MMAP team. Until Dr. Dunham began searching for ancient Maya villages in the lush Maya Mountains, the area was considered too rugged and remote for human habitation. Now he's proved that the area was an important mineral resource zone for the Maya, who exploited the region's clay, pyrite, quartz and other materials to make spears, dyes, ceramics and other tools of daily life.
Closer to home, Dr. Dunham is known for his integrated teaching style that has infused cross-cultural expertise, student learning, and research-driven applications across 17 undergrad and grad courses. He has raised over $1 million for research and teaching projects and took it upon himself to completely redesign four of Anthropology's gateway courses -- writing interactive, online mini-textbooks with embedded links and videos for each course.
Dr. Dunham's courses are so popular, he taught 555 students in the last academic year alone -- more than any other tenured or tenure-track professor at CSU. He has dinner with 30 to 75 students every semester, building lasting relationships.
About the Award
The Dr. Jennie S. Hwang Award is the highest honor for faculty members in all disciplines and recognizes individuals for bringing regional, national, and international recognition to the University through exceptional achievements in teaching, research, and service.
Dr. Hwang is a member of the CSU Foundation board of directors and the founder, president, and CEO of H Technologies Group. She established the award through a gift to the Foundation to help inspire faculty to ever-increasing levels of excellence. Each year, one awardee is chosen from the men and women honored by the University's Distinguished Faculty Program.
In his own words: more international finds
"I've been investigating how archaeological images on banknotes were used to help build the modern Mexican sense of national identity. A couple of years ago, I found a bunch that were used during the Mexican Revolution (ca. 1915) in a bank robbery and the extortion of the International Harvester Corp. (IHC). I traced them to the IHC archives in Chicago and Madison, WI, where I discovered 167,500 of the 20-peso notes in pristine condition, worth millions in today's U.S. dollars. They had been declared illegal by the revolutionary government, their possession punishable by death. The IHC couldn't risk returning them, then lost track of what they were. Pretty cool find."
And - "I've been studying the ethnopolitical significance and history of a colonial portrait of the Aztec emperor Moctezuma that once belonged to his family. It's really an amazing piece. It helped to create a visual charter for today's mestizo identity (combined European and Native American descent) of Mexico. After working on it, the owner decided to put it up for auction through Sotheby's. They asked me to write the catalog essay. It sold in November for nearly $1.7 million U.S., the highest amount ever for a piece of colonial Latin American art. Pretty neat to be a part of such an historic moment."
http://www.sothebys.com/en/auctions/ecatalogue/2012/latin-american-art-n08907/lot.16.lotnum.html
- BACK TO TOP -
See the beast that ate Rascal House!
---
Essential Rascal House Facts
Established in 1980
More than 2,094,570 pizzas sold from the flagship store at CSU
Topped with over 397,800 pounds of pepperoni!
And 6,658,560 ounces of cheese

RH used to organize Spring Break getaways to Daytona Beach
- BACK TO TOP -