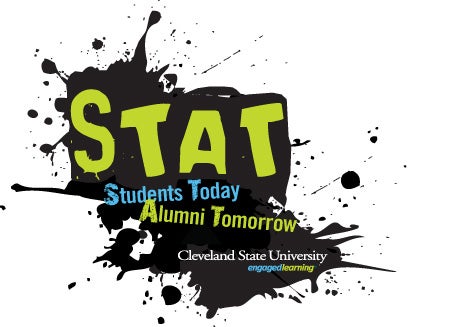 Contact Information
Alumni Affairs - MM212
csu.stat@csuohio.edu
216.687.2078
Perks and Programs for you!
Membership Kit (given when you attend your first general membership meeting)
Free STAT T-shirt
Membership Punch Card
Coupons and Discounts for local restaurants and merchants
Free admittance to all STAT-sponsored events - social, athletic, professional, community service, and networking events (link to STAT event calendar)
Invitations and access to exclusive CSU Alumni Association-sponsored events - social networking, career development, and community activities (link to CSUAA event calendar)
Access to all membership benefits of the CSU Alumni Association (link to CSUAA benefits)
Scholarships – STAT members are welcome to apply for several scholarships offered through the CSU Alumni Association
Activity Reward Program
Once a member of STAT, each time a student attends an official STAT meeting, official STAT sponsored event, or CSU Alumni Association program he/she will receive a punch on his or her membership card. When a STAT member reaches a certain punch level, he/she will receive various prizes sponsored by the CSU Alumni Association.
Programs, Events, and Traditions
Homecoming
Etiquette Dinners
Students Helping Students – philanthropy project
(link to SHS page - http://csuohio.edu/offices/shs/)
Senior Send Off and Graduation Party
Viking for Life T-shirt Days
Viking Watch Parties
Dinner with 12 Vikings
Alumni Tours
Viking for Life Awards

ASAP District 5 Conference
And much more...
Join Today!
STAT Membership Request Form (*Required)
Name*
Phone Number*
Preferred E-mail*
Address (City, State, Zip)
CSU Student ID*
Expected Graduation Year*
Major*
Are you interested in becoming a Board Member or working on a committee?
Check all that apply.
Traditions/Spirit
Students Helping Students
Student-Alumni Networks
Executive Board Officer
Interests, Hobbies, and other student activities
T-shirt size*
<!-- Submit -->

By submitting the STAT Membership Request Form you will automatically be added to our listserv which will provide you with membership news, events, meeting minutes, and other STAT information.