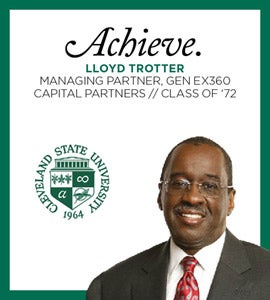 Lloyd Trotter, BBA '72
"My Cleveland State experience was the foundation that anchored me. It taught me how to think outside of the box and challenge everything, while looking for a better solution. The experience has been something that I have been able to draw from and continue to learn from throughout my career. When I left, I knew I was prepared to take on the world!"
Lloyd Trotter began his career at GE in 1970 as a field service engineer, quickly rising through the ranks holding numerous positions. By 1990, he was vice president and general manager of manufacturing for GE's Electrical Distribution & Control (ED&C) division and soon was promoted to president and CEO. Eventually, he would finish the latter part of his storied 40-year tenure at GE in the top role of what is now GE Industrial, as well as being a vice chairman of the company, responsible for a $28 billion business with nearly 80,000 employees worldwide, and having helped hundreds if not thousands of up-and-coming minority GE employees in the co-founding of the company's flagship mentoring program, the African-American Forum.
Today, he is co-founder and managing partner of GenNx360, a next-generation private equity firm that buys companies and raises their enterprise value by enhancing and growing productivity and profitability.