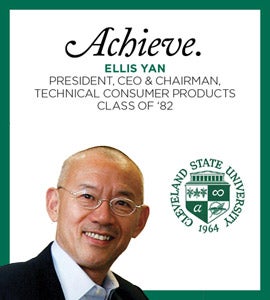 Ellis Yan, BBA '82
Ellis Yan was only 20 years old when he moved from China to America, to study accounting at CSU. A few years after graduating, he tried his hand in the lighting business when he began to buy used lighting equipment, exporting it to China and manufacturing halogen lighting products. It was a move that would lead him to found the Aurora-based Technical Consumer Products, Inc. (TCP), in 1993, which has become an industry leader in energy-efficient lighting.
Both Ellis and TCP, it seems, have been on the fast track to success for quite some time, leaving in their wake awards and accolades. The company has more than doubled its sales since 2001, reaching $154 million in 2006 while doubling employees at its corporate headquarters to more than 200 people in just one year. In 2007, sales swelled to $300 million.
The awards for his business leadership and contributions to energy efficient lighting are numerous. He was named to the Forbes 2008 list of Notable Chinese Americans and was the Ernst & Young Entrepreneur of the Year in Science and Technology in 2002. He was named a 2008 CSU Distinguished Alumni and received the Master Innovator distinction from Smart Business magazine as well as receiving Cascade Capital's Business Growth award six times.