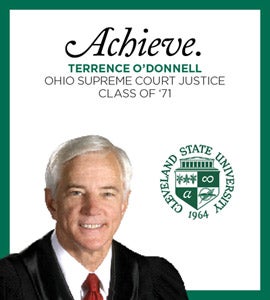 Terrennce O'Donnell, JD '71
Justice O'Donnell's legal career spans nearly 40 years, beginning in 1971 at the Ohio Supreme Court as law clerk to Justice J.J.P Corrigan and then to Judges John V. Corrigan and John M. Manos on the 8th District Court of Appeals.
Currently, he serves on the Ohio Supreme Court, a post he's held since 2003, and is a regular presenter on topics of ethics, professionalism, and appellate advocacy and continues to support, expand, and strengthen mentoring with the law profession in Ohio. His platform in the Supreme Court has also allowed him to lead statewide efforts to increase professionalism among lawyers and judges all across Ohio.