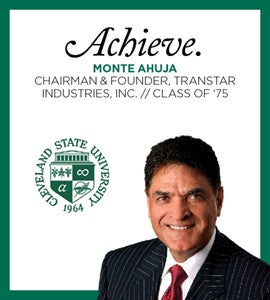 Monte Ahuja, MBA '75
"My CSU education was the turning point of my life as it provided me the opportunity to develop my business plan which turned out to be a great success."
That plan came to Ahuja while has was an MBA student, here at CSU, struggling to make ends meet. It hadn't been long since he'd moved from India to the United States, the place he called "the land of opportunity" and the move had been a difficult one. But success, he said, was the only option he had.
While in night class, he developed what would become the business plan for Transtar, Ahuja's now worldwide distributor of auto transmission repair parts, with an annual revenue of approixmately $500 million and 1,800 employees.