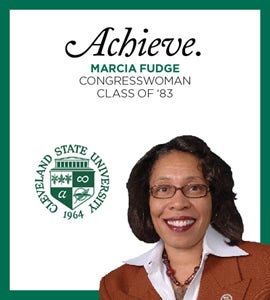 Marcia Fudge, JD '83
Marcia Fudge, a 1983 Cleveland-Marshall Law graduate and current 11th District Ohio State Representative, begins each morning with a mantra "to do the people's work." It's a promise that guides her work as a member of the House Education and Labor Committee; the Higher Education, Lifelong Learning and Competitiveness Subcommittee; the Health, Employment, Labor and Pensions Subcommittee and the Science and Technology Committee.
It's also a promise that's propelled her through a career marked with accomplishment and distinction. Before she was a congresswoman, she worked to rebuild the City of Warrensville Heights as it's first African-American female mayor, building hundreds of new homes and repairing a lagging retail base. And before that Representive Fudge was chief administrator for the then-Cuyahoga County Prosecutor Stephanie Tubbs Jones and later was Tubbs-Jones' chief of staff when she was elected to Congress.