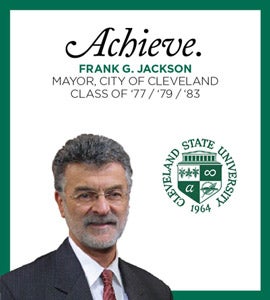 Frank G. Jackson, BA '77, MS '79, JD '83
Like Cleveland State, Frank Jackson is on the front lines of Cleveland's revitalization efforts as the City's 56th mayor.
Born, raised and educated in Cleveland, he knows full well the potential stirring underneath the City's sometimes weathered surface and leads the way to economic, community, educational and regional recovery. His committment to public service extends decades back, having served a 16-year stint on City Council with four years (and counting) under his belt as Cleveland's Chief Ambassador.