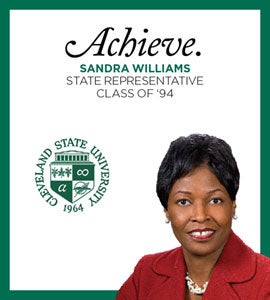 Sandra Williams, BA '94
State Representative Sandra Williams (D-Cleveland) of the 11th District is proudly serving her second term in the Ohio House for her constituents in Cleveland.
The Cleveland native received a bachelor's degree in political science from Cleveland State University. She then earned a master's degree in criminal justice administration from Tiffin University.
Before starting her career in the Statehouse, Rep. Williams worked in the field of criminal justice for more than a decade. She worked in several different positions, including as a corrections officer, probation officer, parole officer and mediator. Rep. Williams also served our country as a member of the United States Army Reserve from 1987 to 1995.
Rep. Williams then moved to the Statehouse as a legislative aide. Her five years in that role gave her unique insight and exceptional credentials to help her earn the trust and respect of voters when they elected her in 2006, and reelected her in 2008.
Rep. Williams Chairs the Ohio House Economic Development Committee, and is Vice Chair of the Public Utilities Committee. She is a member of the Financial Institutions, Real Estate and Securities Committee and the Veterans Affairs Committee.
She was also appointed to the State Coverage Initiative Institute on Health Care. Rep. Williams is also a member of the Federated Democratic Women of Ohio, the National Council of Negro Women, the Improved Benevolent and Protective Order of Elks, and the Black Women's Political Action Committee.