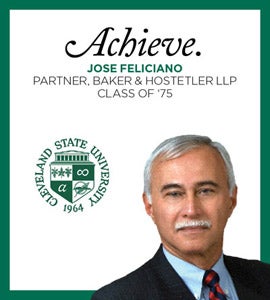 Jose Felicianio, BBA '82
Jose Felicianio is super. We're certain he's a great guy, family man, etc., but when it comes to the profession of law, he is especially super. In 2010, he received, the distinction of being named one of the nation's Super Lawyers. It's pretty impressive, considering only the top 5% of lawyers nationwide get a spot on the list, but it actually isn't the first time he's received a spot on the coveted roll of distinguished litigators. It's not even the second. Or the third. Or the fourth. This is Feliciano's seventh, count them, seventh time being named a super lawyer.
He has more than 30 years as a trial lawyer and is currently a partner at Baker Hostetler specializing in complex commercial and employment litigation. You could probably imagine that his list of awards runs long, and if you did, you're right. But equally as extensive as his professional achievements is his civic engagement, particularly his work to enrich and empower the Hispanic community. We'd certainly call that super.