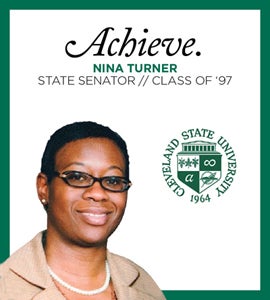 Nina Turner, BA '96, MA '97
In 2005, Nina Turner, who received both her bachelor's and master's in history from CSU, became the first woman to represent Cleveland's Ward 1 on City Council, where she worked to make Cleveland streets safer and more family-friendly. She is a strong believer in the power of education and, during her tenure on Council, established a need and merit-based scholarship for Cleveland high school students and returned as a mentor to her alma mater, John F. Kennedy High School, focusing on equipping at-risk youth with tools for successful futures.
As a State Senator, representing the 25th District, she continues to champion the causes of Northeast Ohio and Cuyahoga County. In addition to serving on the Senate, Turner teaches African-American History, U.S. History, Urban Studies, and Political Science at Cuyahoga Community College.