<!--

MIDTERM STUDY JAM
Midterms are coming and we want you to feel confident. Stop by to study with a English or Math tutor and enjoy refreshments. No appointments needed.
When: Tuesday October 9, 2012
Where: MC 110 Green Room 10am – 2pm
Sponsored by your Student Success Specialists
-->
NOTE TAKING WORKSHOP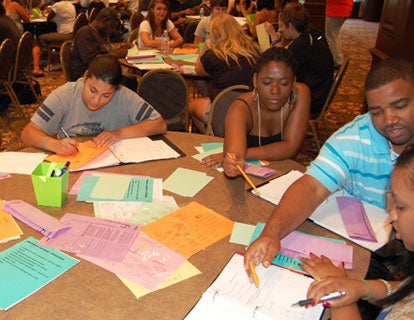 * Are you making the most of your note taking?
* Are you utilizing your notes effectively?
Attend a Note Taking workshop designed for your success by your student success specialist. Learn alternate methods to note taking, have questions answered and refreshments.
When: October 23, 2012 during Common Hour at noon
Where: MC 105
Contact Monica Starks for more information 216-875-9739 or m.a.starks@csuohio.edu
MIDTERM SURIVOR RECOGNITION
* In conjunction with T.A.S.C. we will hold a Study Jam the week prior to midterms in the green room. Students will be able to walk in and get tutoring in Math and English during the study jam and it will emphasis the importance of preparing for midterms. Refreshments will be provided.
* On Halloween, we will pass out Survivor Certificates and candy to those that came to the study jam, passed their midterms and have met with their SSS at least once so far.
* Students will work with TASC tutors in the green room
STUDY JAM:
October 9, 2012
Green Room
10am-2pm
SURVIVOR RECOGNITION:
October 31, 2012
Green Room
11:30am-1:30pm
Click here to see the workshops in November