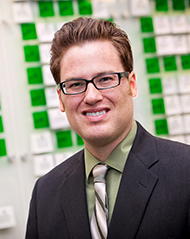 Joseph Vainner
Coordinator of Special Populations Recruitment
j.vainner@csuohio.edu
216.523.7222
My name is Joe Vainner and I am Cleveland State's senior admissions counselor for students interested in transferring from another college or university. I also focus on high schools in Southeast and East Central Ohio. I earned my bachelor's degree from CSU after transferring from Lorain County Community College and went on to earn a master's degree in Creative Writing from Sarah Lawrence College and a second masters, in Educational Leadership, from Eastern Michigan University. As a student, I loved being at a diverse, urban university where I could take advantage of all the city of Cleveland has to offer. I came back to Cleveland State because I wanted to be a part of the exciting changes and growth taking place at the university. Please contact me if you're interested in transferring to CSU.
What's your favorite spot on the CSU campus and why?
The Contemporary Poetry Collection in the Michael Schwartz Library is a great place to study or attend a reading.
As a student, what did you appreciate most about your CSU experience?
Professors who cared about me and my future. My professors in the English Department were always available to meet outside of class and helped guide me through the intimidating process of applying to graduate school.
What's your favorite CSU fun fact?
The CSU Vikings have a lifetime winning record in the NCAA basketball tournament.
Reveal one secret about CSU or the CSU campus.
Before it was a residence hall, Fenn Tower was a country club. It contained a ballroom, which is still used for events, and even a pool on the sixth floor.
Describe a time when you felt the greatest sense of CSU pride.
Seeing thousands stand in the rain to hear President Obama speak on Krenzler Field.
What advice do you have for students who are choosing a college?
Visit campus and ask questions. You can get a lot of information from a school's website, but there's no substitute for spending a day on campus.