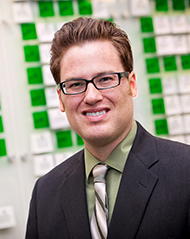 Joseph Vainner
Enrollment Representative
j.vainner@csuohio.edu
216.523.7222
Favorite place on campus: The Allen Theatre at Playhouse Square. You won't find an undergraduate Theatre program with a better stage!
Why choose CSU?: We have fantastic faculty who love to teach and are dedicated to helping students achieve their goals. I was able to get into a great graduate program because of the guidance I received from my professors as an undergraduate here.  
Best advice for the college search: Visit campus! You'll never know if a school is a good fit for you until you spend a day exploring campus and talking to students.
Favorite class in college:  My senior seminar in American Modernist Literature with Jeff Karem. I learned more in this class than in some of my courses in grad school.
Best question to ask on a college tour: Ask your tour guide to recommend a great elective course. You might discover a passion for a topic you knew nothing about.
Favorite CSU Fun fact: Rhodes Tower is the 3rd tallest university building in the country. If you have a meeting with a professor on the eighteenth floor, make sure to check out the view of the Cleveland skyline.