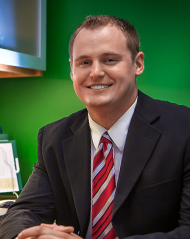 Zachary Nichols
Enrollment Representative
z.nichols58@csuohio.edu
216.523.7401
Cleveland State University is right in the heart of downtown Cleveland! It's fun, cool, exciting, and great for your career. Especially if you take advantage of the more than 3,000 internships and co-ops – many with Fortune 500 companies – available through CSU!
I focus on high schools in Shaker and Solon in Cuyahoga County as well as other Northeast Ohio counties. I also assist Lakeland Community College and Lorain County Community College transfer students. 
Why do you think that more and more students are choosing CSU?
I believe that more and more students are choosing CSU because they are starting to realize that location leads to career success. Due to our location in the city of downtown Cleveland, we are #1 in the state of Ohio in terms of internships/co-ops. Being in downtown Cleveland provides ample job opportunities that other institutions just simply don't have.
As a student, what did you appreciate most about your CSU experience?
One of the things that I appreciated as a student at CSU, oddly, was the RTA pass that came with tuition. It made commuting easy, fun, and enjoyable. Also, did I mention you could use it unlimitedly?
Describe a time when you felt the greatest sense of CSU pride?
It had to have been the time President Barrack Obama visited our campus on his campaign trail a few years ago. He stopped into our College of Engineering and talked with students, professors, and advisors about their experience at CSU. The fact that he took time out of his busy campaign trail to visit CSU gave me an incredible amount of Viking pride!
What advice do you have for students who are choosing a college?
Schedule a visit! The best way to tell if a college is perfect for you is to set up a campus tour. Also, visit a wide variety of schools – small schools, big schools, urban institutions, rural universities, liberal arts colleges, and public universities.
What's your favorite spot on the CSU campus and why?
My favorite spot on campus is hands-down the Recreation Center at CSU. It's huge! It's a three-story facility with weights, an indoor track, multiple basketball courts, racquetball courts, swimming pools, and even a gift shop! Even as an employee, I go there almost every day.
If you had your own Magnus outfit, where would you wear it?
I would take it back in time to Nordic Iceland and hang out with my Viking ancestors!