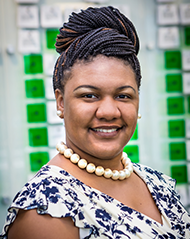 Rakia Naze
Senior Admissions Counselor
r.naze@csuohio.edu
216.523.7418
I focus on high schools in the Cleveland Metropolitan School District as well as in Illinois and Wisconsin.
What's your favorite spot on the CSU campus and why?
I enjoy sitting near the fountain right outside the Student Center in the plaza. It's a great place to enjoy sunlight, read a book, or socialize with friends or co-workers. It's also close to campus eateries such as the Viking Market Place, Chili's (coming soon) and Starbucks!
Why do you think that more and more students are choosing CSU?
CSU's campus is urban, vibrant, and diverse. You will get the chance to meet people from all walks of life. There are endless opportunities. Overall, you get the best of both worlds:  strong academics and a great location! Students will have fun while preparing for their futures without even venturing too far away. Opportunities are literally in your backyard.
If you had your own Magnus outfit, where would you wear it?
I would wear my Magnus outfit to the Cleveland Indians' season opener. I've always wanted my face to be displayed on the big screen! I'm sure my outfit would be a crowd pleaser.
Describe a time when you felt the greatest sense of CSU pride?
During CSU's 50th Anniversary parade, I was amazed at the turnout of the campus community. Even alumni traveled to the city to participate in this wonderful event. There was a host of other activities throughout the year that attracted large crowds and allowed the world to see how CSU has transformed over the past decade. I am truly proud to be a part of the Viking family.
What advice do you have for students who are choosing a college?
The best part about choosing a college is visiting the campus. This is the time to explore, ask questions, try the food, and a take peak inside the residence halls. Most importantly, you get a chance to walk the halls and see how it feels to be a student on campus. After an awesome college tour of my three top schools, I finalized my decision on where I would call home for the next four years.
What's your favorite CSU fun fact?
CSU is famous! Well, we are if you consider the creation of the delicious "Green Turns Gold" pistachio and caramel ice cream flavor for our 50th Anniversary block party. Our very own upscale restaurant, Elements, served it on the menu for all to enjoy.