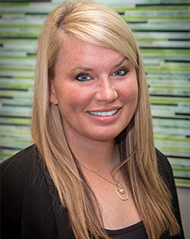 Meghan Sanniti 
Enrollment Representative
m.t.mccarthy@csuohio.edu
216.523.7376
Cleveland State University offers a campus experience unlike any other. Your time studying at CSU is not limited to the buildings that stretch down Euclid and every student leaves the classroom to put their studying to use in the real world. The city is quite literally your campus, and we promise you will find yourself engaged in opportunities only a big city can provide (think partnerships, co-ops and internships, combined with the big city food, theater, shopping and sports)!
I focus on high schools in South and East Cuyahoga County as well as in Akron, Canton and Youngstown.
What's your favorite spot on the CSU campus and why?
My favorite place on campus at Cleveland State University is definitely the Recreation Center. With every kind of class imaginable, an indoor track, free weights, personal training, an Olympic-sized pool, and cardio equipment that is updated annually with an opportunity for member's input, I am only a walk away from one of my favorite hobbies: being active and healthy!
As a student, what did you appreciate most about your CSU experience? 
As a student as CSU for both my undergraduate and master's program, I truly appreciated the resources and student support services I received. Cleveland State is big enough to give every high school graduate the college experience they want, and small enough to give them the academic attention and resources they need as being fairly "green" to the changes that college brings. With the exceptional advising, readily available tutoring and our "one stop shop" All-in-One Enrollment Services, any student can feel comfortable and confident in the time they spend here.
What advice do you have for students who are choosing a college?
Be sure to look for a college that not only has strength in academic programs that are within your interest, but also in careers and extensive opportunities to network and expose yourself into your field of study. The bottom line should not end at a diploma; it should end with successful and promising employment! And, remember, CSU has 3,000 possibilities for you get into your field as early as freshman year! Also, remember to think of value, which has a formula: What types of opportunities will you have to study in the field? How affordable is the institution? Are there opportunities for student employment?, etc. Add all of the answers up to your most valuable questions and see which institution best meets your needs!
What's your favorite CSU tradition?
My favorite CSU tradition is Magnus Fest. Taking place during move-in weekend and the Saturday before classes begin, this event is the perfect opportunity for the entire incoming class to mingle and get to know one another. Any incoming freshman is likely nervous and Maguns Fest really helps to emerge students into the campus as they arrive and socialize with everyone they may see in classes the following week. Also, there are always awesome prizes raffled off! It's such a great way to celebrate coming to Cleveland State!
What's your favorite CSU fun fact?
My favorite fact about CSU comes from my love of the history of this city: Mather Mansion (built in 1910), one of our buildings on campus, is one of the only mansions standing from Millionaire's Row that became infamous at the turn of the 19th century!
Reveal one secret about CSU or the CSU campus.
Before the new Student Center was built, we had the University Center. To the outside community, it was referred to as the "UC," but to the campus community, especially students, it was "The Cage" because it looked like a giant birdcage with tons of windows from top to bottom. Sometimes we would actually see birds flying around inside and it was pretty normal to students!