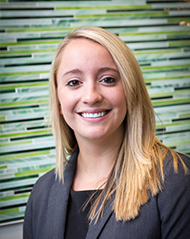 Senior Admissions Counselor
If you are looking for an urban college with endless opportunities to find real-world job experience, CSU is definitely the college for you. We have hundreds of companies and organizations in Cleveland, ranging from Sherwin Williams to NASA! There is always something exciting going on in downtown Cleveland. With our large city events and major league sports, it is definitely an exciting time to be a student here!
I focus on high schools in Southwest Cuyahoga County as well as Ashland, Lorain and Richland counties.
What's your favorite spot on the CSU campus and why?
My favorite spot on campus is probably the Recreation Center. I go there at least four or five times a week. The equipment is always new and clean, and it's never too busy. I love going to all of the free fitness classes, too!
Why do you think that more and more students are choosing CSU?
I think more and more students are choosing CSU because it's such an exciting time to live in downtown Cleveland! We are definitely a city on the rise and there is always something exciting going on. Whether you want to go watch the Cavaliers down at the Q, see a show at Playhouse Square, or hang out on the beach at Edgewater Park – you will never be bored!
Describe a time when you felt the greatest sense of CSU pride.
The time when I had the greatest sense of CSU pride was when I attended an alumni reception for CSU last spring in Columbus, Ohio. It was so much fun to get together with proud alumni representing CSU from down in Columbus! I was able to see the impact that CSU has had on so many people's lives, and was very proud to call it my home.
What advice do you have for students who are choosing a college?
My biggest piece of advice is to tour as many colleges as you can. You'll never know if you'll feel comfortable at a college until you walk through campus and picture yourself among the students. It was my favorite part of the college search process and helped me make my final decision!
What's your favorite CSU tradition?
Week of Welcome is my favorite CSU tradition. Week of Welcome takes place during the first week of classes and it's such a fun way to ring in the new school year! There's always free food and games and plenty of opportunities to learn about student organizations that we have here on campus.
What's your favorite CSU fun fact?
My favorite CSU fun fact is that Playhouse Square is technically a part of our campus! Theatre students have the opportunity to take classes in Cleveland's theatre district, which is also the second largest theatre district in the country (second only to NYC)!