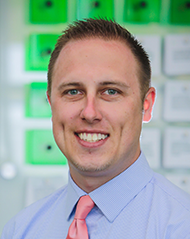 Mike Perry
Senior Admissions Counselor
m.p.perry@csuohio.edu
216-523-7376
What is your favorite spot on the CSU campus and why?
My favorite spot on campus has got to be the ballroom in the Student Center. You could argue that it has the best view on campus and is great for hosting events!
Why do you think that more and more students are choosing CSU?
You can not only get a great education at Cleveland State, but being downtown allows students to experience everything our thriving city has to offer at an affordable institution in the heart of Cleveland!  
Describe a time when you felt the greatest sense of CSU pride?
I live that pride each morning walking down Euclid, surrounded by the entire campus and city of Cleveland.
What advice do you have for students who are choosing a college?
Apply early. Ask questions. Visit colleges in person. Find a place that will ultimately make you feel "at home". Finding a comfortable fit is one of the most important steps in finding the right place for you to further your education.
What's your favorite CSU fun fact?
We have what is known as the "Inner Link" on campus. This is a path connected/marked by a series of green dots in the halls and buildings that allows students the opportunity to travel through campus without ever going outside!